For the last 27 years I have been the director of the Creamery Mental Health Office in Shelburne, Vermont, a full-time private psychotherapy practice. I work with a variety of clients, from couples seeking support for their relationships to individuals suffering from the stresses of work, depression, anxiety and loss. Each person's situation is unique and requires an individualized approach.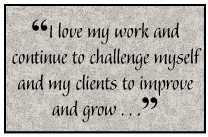 I work with both individuals and couples as they face communication blocks. Healthy relationships, with oneself and with others, are based on trust and clear communication. People often come to me to work out confusion and frustration in a relationship, or they may bring a spouse, daughter, friend or co-worker to address their feelings of anger, resentment, disappointment or hurt, feelings that have interfered with their communication, their relationship and their ability to function well in everyday life.
My continuing education: To stay effective as a licensed psychologist-doctorate, I attend workshops, read and explore academic and popular psychology that is both new and old to the field. I continue to educate myself, helping to keep my skills current and my approach specific to each client's needs.
I love my work and continue to challenge myself and my clients to improve and grow through the many resources available to us.
For more information about my professional background, please click here.